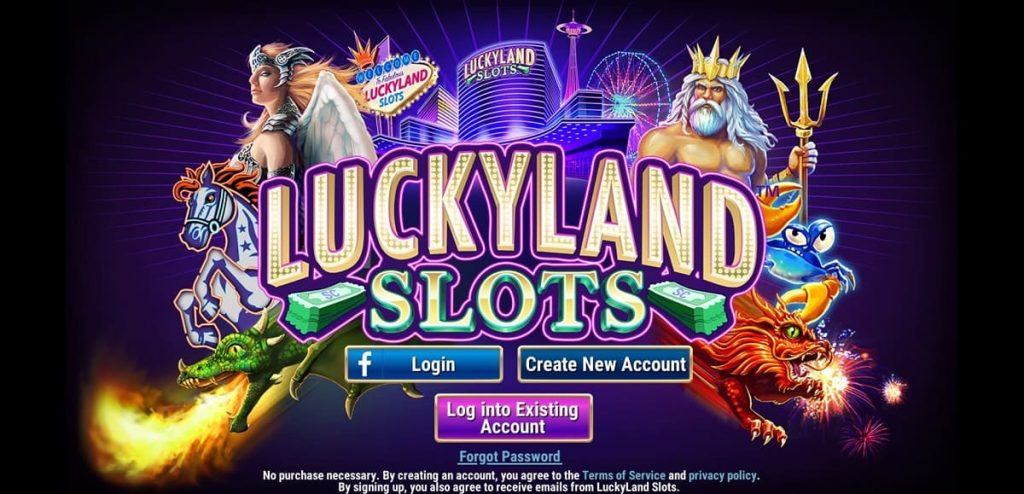 VGW's Lucky Land Slot was launched in 2019 and has attracted about 200,000 fans on Facebook in just a few years. Similar to sites like Funzpointz and Chumba Casino, LuckyLand lets you play casino games and cash in your Sweeps Coins for real money.
Social casinos are quite new in the US, and they're changing the game for people who love online casino-style games. Traditional online casinos are still limited to a few states, but social casinos like LuckyLand Slots Casino welcome players from most US states.
LuckyLand Slots Review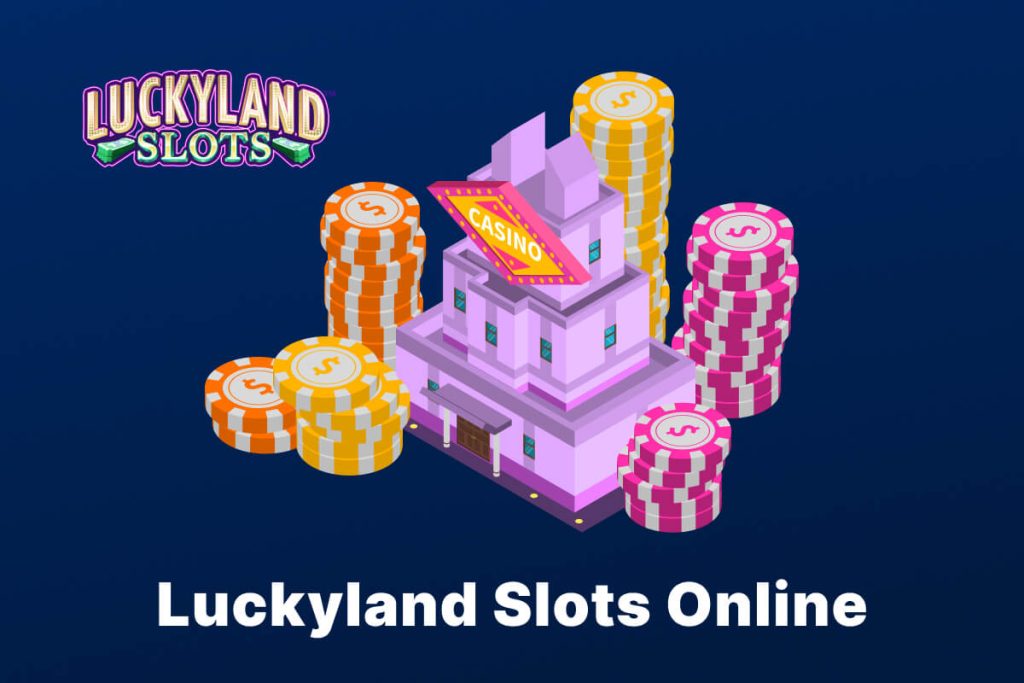 In this review, you'll discover everything necessary for playing at Lucky Land Slot. It covers how LuckyLands Slots operates, the available slots and games, and the various offers and free coins you can get. Moreover, you'll find information about LuckyLands Slots' sign-up bonuses and many other exciting details!
Pros
Available in all US states except Washington and Idaho.
Playable on desktop and mobile through an Android app.
An abundance of thrilling slots, including progressive options.
Helpful customer support is accessible.
Offers generous bonuses.
Social gaming interface to connect with friends.
Cons
Unavailable on Play Store and App Store.
Absence of table games.
No live dealers.
Mobile browser version loads too slowly.
What is LuckyLand Slots?
LuckyLand Slots Casino belongs to the VGW Family of online social casino games. Players on these sites can securely redeem cash prizes.
Two methods are available for playing games at LuckyLands. You can opt for Sweeps Coins or Gold Coins, both virtual currencies similar to playing money at real casinos.
Upon sign-up, you'll receive some coins, and you can also choose to purchase additional Gold Coins. Often, such purchases come with a bonus of FREE Sweeps Coins. It's worth noting that Sweeps Coins can't be bought; they're exclusively obtained through offers.
LuckyLand Slots Casino Real Money offers a unique experience, allowing players to enjoy the thrill of winning real prizes from their homes. Redeemed cash prizes are directly sent to your bank within 3-7 business days, ensuring quick delivery of your winnings.
How Does LuckyLand Slots Work?
LuckyLand Slots operates as a social casino, employing a 'coins' system for gameplay and prize winnings. There are two types of coins utilized: Gold Coins for standard play, and Sweeps Coins, which can be exchanged for prizes.
At LuckyLands Slots, you'll find a diverse collection of over 100 unique slots available for your enjoyment, whether you're using Sweeps Coins or Gold Coins. In this section, we'll guide you through understanding the contrast between these two types of coins and explore the possibilities each of them offers.
This section will guide you through the difference between these two coin types and explore the possibilities each of them offers.
LuckyLand Slots Sweep Coins
To have a shot at winning cash prizes on LuckyLand Slots Casino Real Money, dive into this guide about Sweeps Coins. We'll walk you through the steps to acquire, earn, and redeem them.
What are Sweeps Coins in LuckyLand Slots?
Sweeps Coins are a currency utilized within Lucky Lands Slots for playing designated games and can be exchanged for actual prizes. When you win Sweeps Coins, you can redeem them at a conversion rate of 1 Sweep Coin to US $1. These winnings can be withdrawn to your online wallet or bank account or converted into gift cards for further use.
How Can You Use Sweeps Coins in LuckyLand Slots?
Every slot machine has its own specific Sweeps Coins requirement, but it's incredibly easy to determine the needed amount for each game.
During gameplay, you can easily determine the potential Sweeps Coins you may win on a machine by referring to the Pay Table.
Each Sweeps Coin earned through gameplay can be exchanged for US $1. The redemption process is equally straightforward. Just navigate to the account section on LuckyLands Slots to convert your Sweeps Coins into bank funds or a gift card.
Remember there's a minimum requirement for prize redemption: 50 Sweeps Coins (equivalent to US $50). Ensure your balance has reached this threshold before making a withdrawal.
How to Get Sweeps Coins in LuckyLand Slots?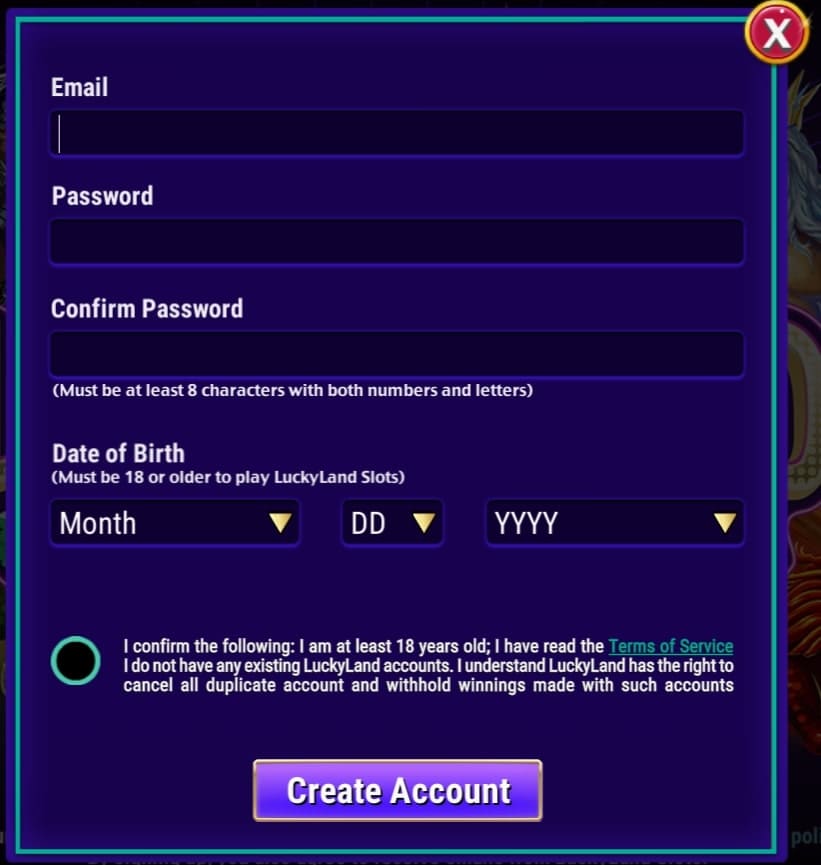 Earning Sweeps Coins in LuckyLands Slots doesn't solely depend on slot machine play. There's a variety of ways to gather Sweeps Coins, making it easy to accumulate:
Welcome Bonus: LuckyLand gives you 10 sweeps after registration.
Free Bonus when buying Gold Coins: You'll receive a bonus of Sweeps Coins when you buy Gold Coins.
Giveaway Contests: Join in on contests for a chance to win Sweeps Coins.
Daily Bonus: Lucky Lands Slots offers daily bonuses that can include Sweeps Coins.
Request via Post: Some promotions may offer the option to request Sweeps Coins by post.
By engaging regularly, participating in the community, joining contests, and leveraging these methods, earning Sweeps Coins within LuckyLands Slots becomes straightforward.
LuckyLand Slots Gold Coins
LuckyLands Slots has an option for those not interested in winning cash prizes—Gold Coins.
What are Gold Coins in LuckyLand Slots?
Gold Coins serve as the in-game currency for social gameplay within Lucky Lands Slots. These coins are used solely for entertainment and cannot be exchanged for prizes. They lack any actual monetary value.
How Can You Use Gold Coins in LuckyLand Slots?
With Gold Coins, you can play Lucky Land Slots games by clicking the Crown icon at the top of the page. They're the perfect way to test a machine's suitability or to try out the latest games from LuckyLandSlots.
How to Get Gold Coins in LuckyLand Slots?
Getting Gold Coins in LuckyLandSlots is simple. Here are ways to acquire more Gold Coins:
Sign Up: You can get up to 7,777 Gold Coins by signing up for Lucky Lands Slots.
Regular Play: Consistent gameplay also earns you Gold Coins.
Daily Bonuses: You can also take advantage of daily bonuses, which may include Gold Coins.
Purchase: The easiest way is to buy Gold Coins. This not only provides you with more Gold Coins for gameplay but frequently includes Sweeps Coins as an extra free bonus
Social Media Giveaways: Participate in giveaways on Lucky Land Slots' social media channels to potentially win more Gold Coins.
These methods ensure you have enough Gold Coins to enjoy the games at LuckyLandSlots.
Luckyland Slots In-game Purchases
In Lucky Lands Slots, some players might buy additional Gold Coins, especially if they want to play on machines with higher pay tables. LuckyLandSlots also offers in-game purchases and microtransactions, which have become prevalent in the video game industry in recent years. There are times when specific promotions provide additional free Gold Coins as well.
What Are the In-game Purchases on LuckyLand Slots?
In LuckyLandSlots, you can buy Gold Coins at various price levels, often including bonus Sweeps Coins with the purchase.
How to Make In-game Purchases on LuckyLand Slots?
To make an in-game purchase of Gold Coins in LuckyLandSlots, just click the «Buy» button in your game screen's upper right corner. From there, you can select from different Gold Coin packages and follow the prompts to complete the purchase. This will secure you extra Gold Coins for your gameplay.
Accepted Payment Methods For In-game Purchases on LuckyLand Slots
Lucky Land Slots boasts a significant advantage in its array of payment choices. Their FAQ section is notably helpful, offering a breakdown of each payment method along with step-by-step instructions, ensuring your transaction process is seamless.
Here's a list of the accepted payment methods:
Visa
MasterCard
Discover
American Express
Paysafecard
Skrill Wallet
Online Banking
Western Union NetSpend Prepaid MasterCard
Winning Cash Prizes at Luckyland Slots
Lucky Lands Slots caters to both those who prefer playing using Gold Coins for free fun and those who wish to convert their wins into Sweeps Coins. It's important to note that prizes are exclusively accessible to players using Sweeps Coins. Depending on the games you engage with, you can accumulate Sweeps Coins, which can later be redeemed and directly transferred to your account.
Can You Win Cash Prizes on LuckyLand Slots, and what are they?
Players can convert their Sweeps Coins into cash prizes at a conversion rate of 1 Sweep Coin to US $1. It's worth noting that a minimum withdrawal limit of 50 Sweep Coins (equivalent to US $50) must be met. The process for these redemptions is quick and can be conveniently completed directly within Lucky Land Slots.
How to Win Cash Prizes on LuckyLand Slots?
To ensure eligibility for cash prize redemption, it's essential to remember that cash prizes are exclusively available through Sweeps Coins. So, ensure you've selected the right in-game format to redeem any winnings as cash prizes.
LuckyLand Slots — Bonuses, Offers, and Free Coins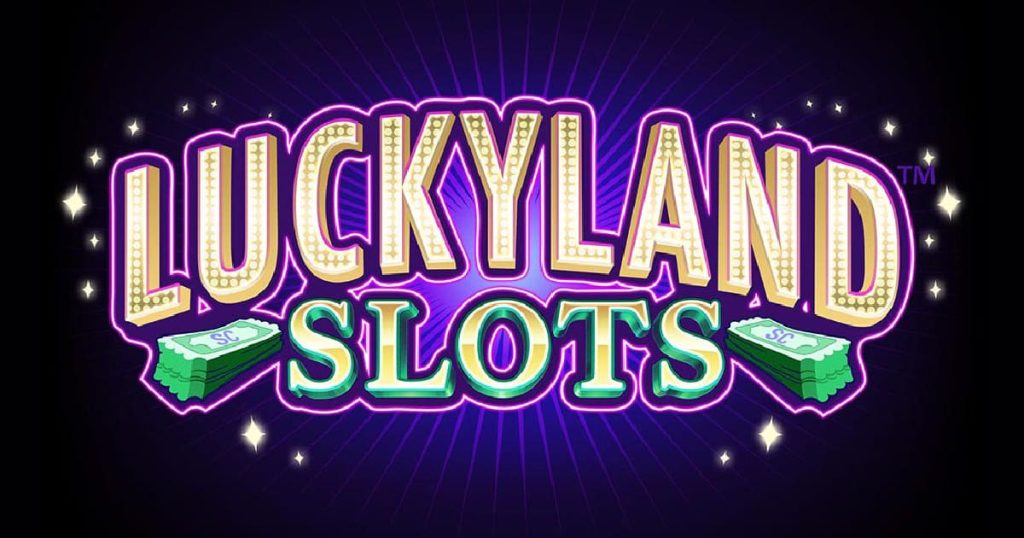 Lucky Land Slots has a range of bonuses, offers, and free coins up for grabs. Let's explore:
Daily Login Bonuses: As a fantastic perk for existing players, LuckyLandSlots offers progressive Daily Login Bonuses. Just log in to your account daily, and you'll be rewarded. Remember, if you log in at noon, make sure to log in at noon or later the following day to receive your bonus.
Bonus Offers and Free Coins: You can also get additional offers and free coins through various means. Purchasing Gold Coins often comes with bonus Sweeps Coins as an extra incentive.
Social Media Contests: Participating in contests on Lucky Lands Slots' social media platforms is another way to earn free Sweeps Coins.
These opportunities make it enjoyable and rewarding to engage with Lucky Land Slots.
LuckyLand Slots Welcome Bonuses
Don't overlook the welcome bonuses when signing up for a social or sweepstakes casino. They're a wonderful method to kickstart your account with many coins, which you can use to enjoy their regular or promotional games. While these offers are refreshed periodically, you can currently seize 7,777 Gold Coins along with 10 FREE Sweeps Coins.
How to get Free Coins on LuckyLand Slots
Lucky Land Slots provides various rewarding opportunities for free coins. These include Welcome Bonus, Daily Login Bonuses, and Sweeps Coins from social media contests.
Games and Slots at LuckyLand Slots Casino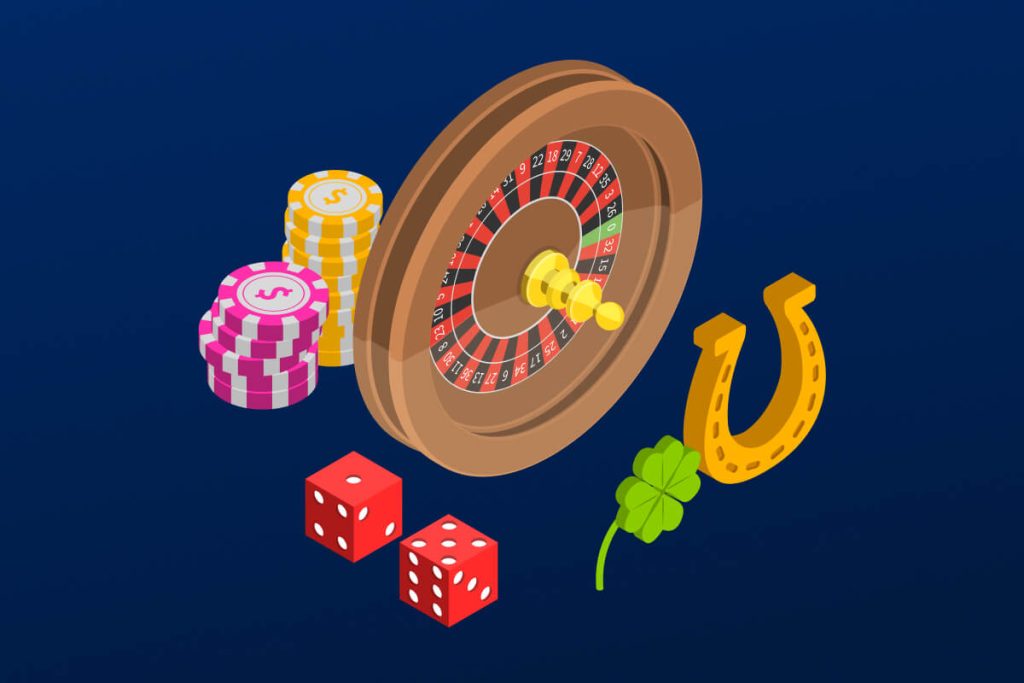 At LuckyLandSlots, you'll find a wide selection of slots, each offering exciting graphics and enjoyable bonus features.
What Games and Slots can be played at LuckyLand Slots?
LuckyLandSlots features an exclusive collection of over 100 slot games. The introduction of instant win and scratcher games has expanded their variety.
Among the notable titles, Neon Valley is a recent progressive jackpot with over 177,000 FREE Sweeps Coins awarded. Power of Ra and Snow Queen are other prominent games, with cascading wins and progressive jackpots.
Other slots you'll find include:
Galactic Blast
Life's a Beach
Forbidden Fortunes
Buffalo Rush
Dragon's Den
Fashion Frenzy
Enchanted Fairy
LuckyLand Slots Games — Verdict
They offer a variety of entertaining slots, neatly presented on a user-friendly page, allowing you to explore and pick your preferred game easily. The game designers opted for established casino-style themes, ensuring a sense of familiarity for seasoned slot players. Mayan Gold looks like RTG's Aztec Treasure, and King of the Jungle draws inspiration from WMS' Jungle Wild.
Thankfully, none of these games come across as uninspired repeats due to their remarkable 3D graphics and clear sound effects. The gameplay is equally impressive, featuring abundant distinctive elements that enhance the traditional mechanics of video slots.
However, the platform lacks video poker and table games. This reflects LuckyLand's focus on delivering quality slot experiences rather than quantity.
LuckyLand Slots Game Software Reviewed
Lucky Land Slots stands out with its distinct game software, where each game is developed in-house. The casino offers simplicity through its straightforward game guide, making it a user-friendly platform.
What is the Game Software Like at LuckyLand Slots Casino?
LuckyLandSlot has a distinct and unique feel. While the site may not be ultra-modern, they've embraced this theme to infuse the entire experience with a vintage gaming vibe. The vibrant, cartoonish graphics and the retro sound effects create an enjoyable blend.
Although the home screen initially appears flashy and information-packed, it's surprisingly easy to navigate. Moving between different games is straightforward, as is the process of purchasing Gold Coins and redeeming Sweeps Coins. Your Coins balance is always visible at the top of the screen, providing quick access.
The games align with the overall software approach: bright, fun, and uncomplicated. They may lean towards the simpler side compared to the latest 3D slots in real-money casinos.
LuckyLand Slots App Reviewed
LuckyLand's Slots App mirrors the desktop version's vibrant, colorful design and user-friendly interface.
LuckyLand Slots for iPhone — iOS Mobile App
Lucky Land Slots app is not available for iPhone or iPad users. You can only play through the iPhone browser.
LuckyLand Slots for Android — Android Mobile App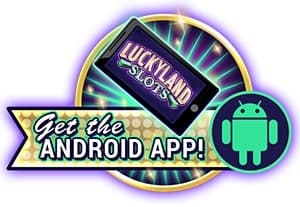 You can download an Android Package Kit (.apk) file directly from luckyland slots.com. This file allows you to install the app once opened. To proceed, visit the download page on the website and click the provided link to initiate the download process.
LuckyLand Slots Customer Service and Support Reviewed
LuckyLandSlots provides a round-the-clock Customer Support service, ready to address any inquiries. If you encounter any problems and require help, their team of customer service representatives is just a click away.
LuckyLand Slots Customer Service
The social casino concept might be unfamiliar to many individuals, especially the process of converting Sweeps Coins into cash prizes. It's natural for questions and uncertainties to arise. LuckyLandSlots does an excellent job of addressing these concerns through its «Support» section.
You can find this section using the provided search bar. It features a comprehensive list of FAQs that cover the Sweeps model and various aspects of the site.
Additionally, you have the option to contact LuckyLand directly for assistance. You can reach them via email at [email protected] or through the contact form on the website.
LuckyLand is also active on social media channels like Twitter and Facebook. This serves as another channel for reaching out. Moreover, following them on social media keeps you updated on the latest giveaways and promotions.
LuckyLand Slots FAQs
Is LuckyLand Slots legal?
Yes, Luckyland is legal in most states that allows residents to play at social casinos, except for Washington and Idaho. The site prioritizes security, using robust encryption to protect login and banking details, making it safe for players.
How long do LuckyLand Slots redemptions take?
Redeemed cash prizes are swiftly sent to your bank within 3-7 business days.
How long does it take to verify my documents on LuckyLand Slots?
Lucky Lands Slots redemptions typically take around 5 days.
Is LuckyLand Slots free to play?
Yes, players have the option to use Gold Coins on Lucky Lands Slots for entirely free gameplay.
Can I earn money playing LuckyLand Slots?
Yes, Lucky Land casino provides real cash prizes that can be redeemed online. These cash prize redemptions are securely processed through Electronic Funds Transfer (EFT) directly to your bank account. For instance, exchanging 50.00 Sweeps Coins can receive $50.00 in cash prizes.
What languages are available at LuckyLand Slots?
The only language available on LuckyLand Casino is English.
Can I play LuckyLand Slots in the UK?
No, LuckyLand Casino is not available for play in the UK.
Can I play LuckyLand Slots in the US?
Yes. LuckyLand Casino can be played in every US state except Washington and Idaho.
What regions can I play LuckyLand Slots?
Currently, Lucky Land Slot can only be played in the US.