No casino is ever complete when it comes to game selections without a Poker game. The best online poker real money casinos ensure that there is more than one variant of the game for players. Online poker is a staple of casinos, and it has been like that for decades.
We are committed to giving you the most honest information about the best online poker game in casinos in the USA. These tips are a product of a series of testing and observations of many casinos by our experts.
Why Play at Real Money Online Poker Sites?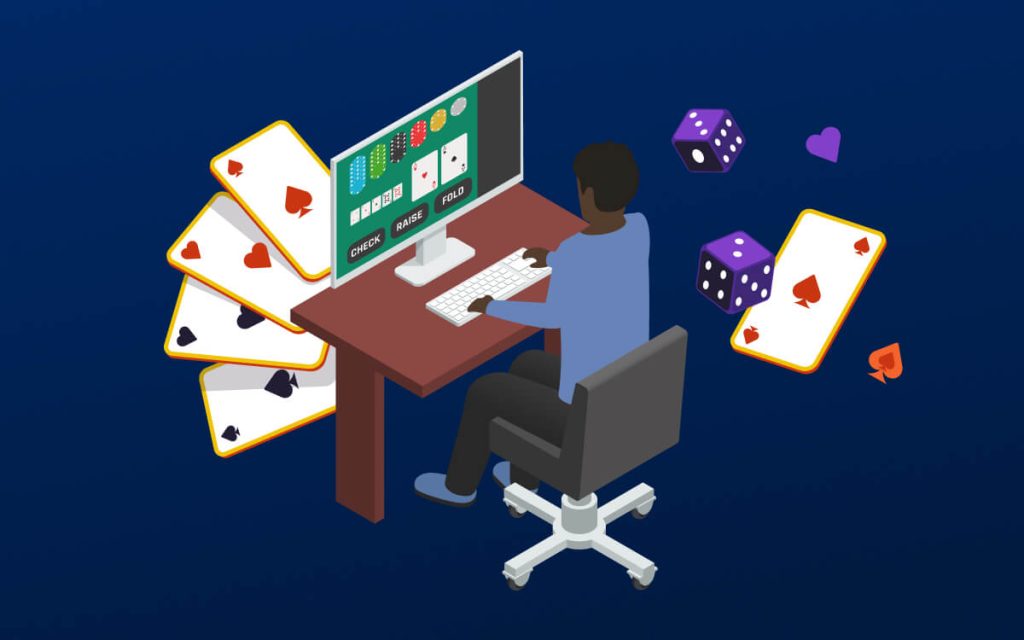 Check out the advantages of playing poker for real money at the best online poker sites. Discover what our experts have got to say:
Superior Quality: Enjoy a high-quality gaming experience at the best real-money poker sites.
Challenging Competitions: Engage in intense competitions against skilled players, adding depth to your poker sessions.
Real Cash Rewards: Compete for cash prizes, enhancing the excitement and potential rewards of your gameplay.
Game Variety: Discover a wide range of poker variations, such as Texas Hold'em and Omaha, on real-money poker sites.
Trustworthy and Secure: Rest assured of secure transactions and fair gameplay on the best online poker sites for real money.
Valuable Bonuses: Take advantage of generous bonuses, promotions, and loyalty programmes for added value and rewards.
Real Money Online Poker Buy-Ins and Costs
When you play poker with real money, the term «buy-in» refers to the amount of money you use to enter a poker game. Each game has specific rules about the buy-in amount and the initial funds you bring to the table.
Cash Games
In cash games, poker buy-in refers to the amount of money you bring to the table to play. It's important to consider the following aspects when deciding your buy-in for cash games on US poker sites real money:
Bankroll Management: Choose a buy-in that aligns with your bankroll size and risk tolerance. It's recommended to have at least 20–30 buy-ins for the stakes you're playing to withstand potential swings.
Skill Level and Comfort: Select a buy-in that matches your skill level and comfort zone. Starting with lower stakes allows you to gain experience and gradually move up as you improve.
Table Dynamics: Assess the table dynamics and average stack sizes before choosing your buy-in. Adjust your buy-in accordingly to have enough chips to make strategic plays.
Recreational or Professional Approach: Decide if you're playing for fun or as a serious endeavor. For recreational play, a smaller buy-in may be suitable, while professionals may opt for higher stakes.
Note that the poker buy-in in cash games directly influences the size of the pots you can play for and the potential profits you can make. Choose wisely to strike the right balance between enjoyment and maximizing your winnings.
Tournaments
When it comes to tournament buy-ins, there are typically two numbers associated with them. One number represents the portion of the buy-in that goes into the prize pool, while the other number indicates how much is allocated for the rake, staff gratuities, and other fees.
For instance, in an online tournament with a $22 buy-in, the structure might be $20 + $2. This means that $20 from each player's buy-in contributes to the main prize pool, while $2 is allocated as rake or tournament fees paid to the cardroom.
8 Things to Look For Before Playing with Real Cash on US Poker Sites
Before diving into real-money poker games on US poker sites, there are several key factors to consider. Here are eight important aspects to look for:
1. Comparing The Different Features of the Best Online Poker Sites
Compare the features of various online poker sites for real money. Look for user-friendly interfaces, smooth gameplay, and reliable software.
2. What to Look for in Real Money Online Poker Site Reviews
When reading real-money online poker site reviews, pay attention to factors like reputation, player traffic, customer support, and security measures. Seek trustworthy sources for unbiased reviews.
3. How to Compare Poker Bonus Offers
Compare the bonus offers available on different poker sites. Look for welcome bonuses, deposit match bonuses, and ongoing promotions that can enhance your bankroll and overall experience.
4. What Games and Variations Are Available?
Ensure that the US poker sites offer the games and variations you enjoy playing, such as Texas Hold'em, Omaha, Stud, or other popular poker variants. Variety ensures you can find the games that suit your preferences.
5. Licensing at Online Poker Sites for Real Money
Check if the online poker sites have proper licensing and are regulated by reputable authorities. This ensures fairness, security, and adherence to responsible gambling practices.
6. Banking at the Best Online Poker Sites for US Players: Depositing and Withdrawing
Evaluate the available banking options for depositing and withdrawing funds. Look for secure and convenient methods that cater to US players, such as credit cards, e-wallets, or cryptocurrency.
7. Poker Site Complaints: Red Flags to Look Out For
Research any complaints or red flags related to the poker sites you are considering. Investigate issues regarding delayed withdrawals, unfair practices, or poor customer service to make informed decisions.
8. The Small Print: Read the Poker Room's Terms and Privacy Policy
Before signing up, carefully read and understand the terms and conditions, as well as the privacy policy of the poker room. This ensures you are aware of the rules, responsibilities, and data handling practices of the site.
When you consider these aspects and conduct thorough research, you can confidently choose the best US poker sites for real money play. It allows you to enjoy a secure, enjoyable, and rewarding online poker experience.
Downsides of Real Cash Poker Games
While real-money poker games offer excitement and the potential for winnings, it's important to consider some potential downsides:
Playing on real money poker sites involves the risk of losing money, as winning is never guaranteed. It's important to follow the games with a responsible mindset and set a budget to avoid overspending.
In some cases, players may encounter dishonest or unreliable poker sites for real money. It's important to thoroughly research and choose reputable platforms that prioritize fairness, security, and responsible gaming practices.
Online poker games at online poker sites real money can be time-consuming, and excessive play can affect productivity or personal relationships. It's essential to manage your time wisely and maintain a healthy balance between poker and other aspects of your life.
Key Factors of Online Poker Rooms
When looking for the best online poker rooms consider these factors:
Reputation and Trust: Prioritize trusted real money poker sites with fair play, security, and fast payouts.
Game Variety: Look for sites offering popular poker variations like Texas Hold'em, Omaha, and Stud.
Player Traffic: Choose poker rooms with active player bases for more game options and availability.
User-Friendly Software: Opt for platforms with smooth gameplay and intuitive interfaces.
Bonuses and Promotions: Seek sites with enticing offers, loyalty programs, and regular promotions.
Responsive Support: Select sites with helpful customer support to address any concerns promptly.
Convenient Banking: Ensure the poker room supports secure deposit and withdrawal options that suit your needs.
Popular Games at Online Poker Sites
When it comes to US real money poker sites, several popular games attract players seeking real money poker action. Here are three of the most well-known and widely played games:
Online Texas Hold'em
Arguably, Texas Hold'em is the undisputed king of online poker. It is featured on the best online poker real money sites and is the game of choice for many players. In this variation, players are dealt two private cards, and five community cards are placed on the table. The objective is to make the best five-card hand using a combination of private and community cards.
Online 3-Card Poker
3-Card Poker is a fast-paced and exciting option available at the best online poker real money. In this game, players are dealt three cards, and the goal is to have a higher-ranked hand than the dealer. It offers both an Ante/Play option and a Pair Plus side bet, adding extra elements of strategy and potential payouts.
Online Omaha Hold'em
This poker variant is another popular game found on the best online poker sites for real money. It shares similarities with Texas Hold'em but differs in the number of private cards dealt to each player. In Omaha, players are dealt four private cards and must make their best hand using exactly two of their private cards and three of the five community cards.
These games, among others, can be enjoyed on real money poker sites that cater to players from the USA and offer secure and exciting gameplay.
What to Look for in the Best Online Poker Sites
When searching for the best online poker sites for real money, consider these essential factors to enhance your playing experience:
Secure Payment Options
Choose real money poker sites that offer a variety of secure payment options. Look for platforms that support trusted methods for depositing and withdrawing funds, ensuring your financial transactions are safe and convenient.
Wide Range of Poker Options
Go for an online poker site for real money that provides a wide range of poker options. Look for platforms that offer popular variations like Texas Hold'em, Omaha, Stud, and more, allowing you to find games that suit your preferences and skill level.
Lucrative Promotions
Choose poker sites that offer lucrative promotions and bonuses. Look for welcome bonuses, deposit match offers, loyalty programs, and regular promotions that provide added value and increase your chances of winning big.
Licenses From Gaming Commissions
Ensure that online poker sites hold licenses from reputable gaming commissions. This ensures that the platform operates under strict regulations and follows fair gaming practices, providing a safe and trustworthy environment for real money play.
Reputable Software Providers
Look for online poker sites that partner with reputable software providers. These providers offer reliable and innovative platforms, ensuring smooth gameplay, user-friendly interfaces, and engaging features for an enjoyable poker experience.
Best Online Poker Sites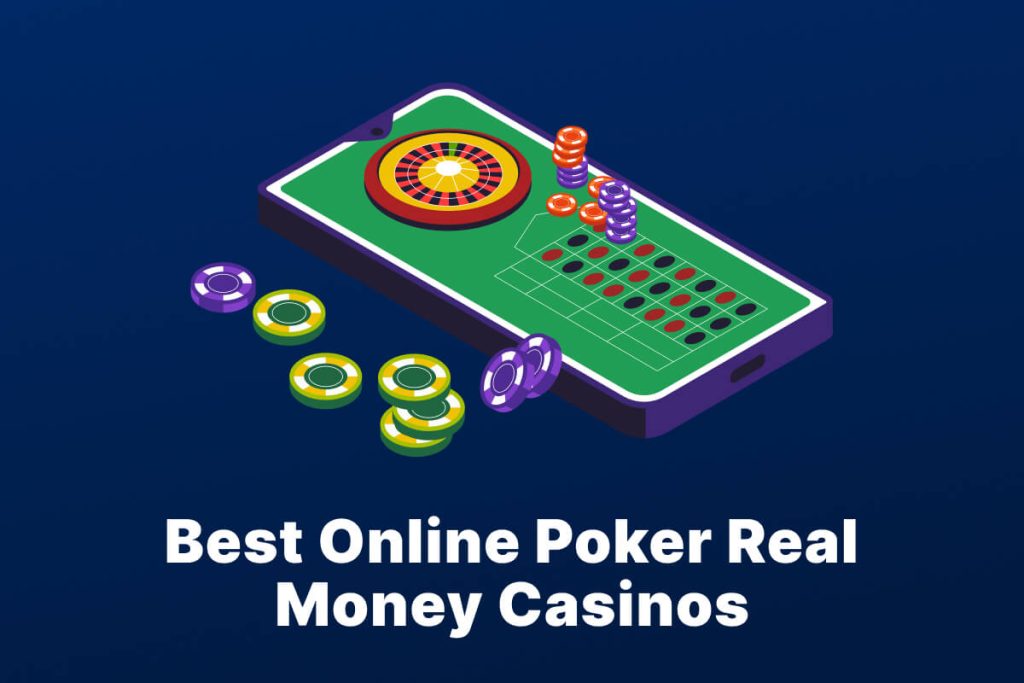 Looking for the best real money online poker sites? Check out these top recommendations:
Ignition Poker – Best Online Poker Site Overall
Ignition Poker is renowned for its excellent overall offering. It provides a secure and user-friendly platform, a wide range of real money poker games, and attractive bonuses for new and existing players. Ignition Poker is among the top online poker sites for real money. It boasts the largest player pool and highest traffic among US-friendly offshore sites.
You'll find a wide range of cash games, poker tournaments, and sit-n-goes, surpassing other US sites combined. New players can enjoy a generous $3,000 Poker and Casino deposit bonus. Ignition Poker also offers fast-paced Zone Poker, mobile options, and a whopping $2 million in weekly tournament guarantees. It's a standout choice for real money online poker in the US.
GGPoker – Best Online Poker Site for WSOP Satellite Tournaments
GGPoker is a premier destination for players looking to qualify for the prestigious World Series of Poker (WSOP) through satellite tournaments. It offers a vast selection of satellites with various buy-ins, giving players a chance to win their way into the WSOP events.
GGPoker is an excellent choice for real money online poker, thanks to its attractive promotions and a player pool that includes weaker opponents. While the rake at GGPoker may be slightly higher compared to other sites, it offers unique features not found elsewhere. GGPoker primarily focuses on recreational players. The platform keeps players engaged with many offers and promotions. GGPoker sets itself apart with exclusive features like all-in insurance to protect your hand, the ability to share hands-on social networks through «hand moments,» and the integrated game analysis tool, PokerCraft, which provides stats and results analysis.
It's worth noting that GGPoker prohibits the use of external tools like PokerTracker or HEM but offers its own comprehensive analysis tool.
Americas Cardroom – Best GTD Poker Tournaments of All Online Poker Sites
Americas Cardroom stands out for its guaranteed (GTD) poker tournaments. With a wide range of GTD tournaments featuring different buy-ins and prize pools, players have ample opportunities to compete for substantial winnings. Americas Cardroom is a top choice for US players, with a focus on the American market. It offers a wide range of poker games and accepts over 60 cryptocurrencies along with traditional payment methods.
The platform is compatible with Android, iOS, and mobile devices. While there have been concerns about bots, Americas Cardroom ensures quick withdrawals. However, it does not have a dedicated mobile app. The welcome bonus provides a 100% match rate up to $1,000, and players can enjoy additional benefits by depositing with cryptocurrencies.
Juicy Stakes – Best Poker Software of All Online Poker Sites
Juicy Stakes is known for its exceptional poker software, providing a seamless and immersive playing experience. It offers a variety of real money poker games and features innovative features that enhance gameplay. Juicy Stakes Poker is an ideal choice for semi-professional and professional players seeking real money online poker.
It offers a weak player field, a generous fixed RB (rakeback) of 36%, and tournaments with overlays. The software, built on the Cake engine, may have a dated appearance but is responsive and undemanding, allowing players to focus on the game.
Signing up at Juicy Stakes is worthwhile, even if you already have an account on another Horizon network storefront like Intertops. With a 200% first deposit bonus and regular reload bonuses, this poker room provides consistent value and an enjoyable playing experience.
Best Real Money Online Poker Sites FAQs
Have questions about the best real money online poker sites? Check out these frequently asked questions for valuable insights:
What's the Status of Online Poker in the US?
US real money poker sites have varying legality. While some states have legalized and regulated online poker sites, others have restrictions or are yet to address the issue.
Is it Legal to Play Poker Online for Real Money?
The legality of playing your best online poker real money depends on your jurisdiction. In states where online poker is regulated, it is legal to play on licensed platforms. However, in states without specific regulations, the legal status may be unclear.
Are There Any USA Friendly Poker Sites That Accept Bitcoin?
Yes, there are USA-friendly poker sites that accept Bitcoin and other cryptocurrencies as payment methods. These sites provide the convenience and security of using digital currencies for real money transactions.
Where Can I Play Poker Online for Real Money?
You can play online poker real money USA on various reputable poker sites. Look for platforms that offer a secure and enjoyable gaming experience, with a wide range of games and competitive bonuses.
How Do Poker Sites Structure Themselves to be Legal in the USA?
Poker sites structure themselves to be legal in the USA by obtaining licenses and operating within the regulations set by individual states. They comply with state laws, partner with licensed operators, and implement geolocation technology to ensure players are within authorized jurisdictions.
Is Playing Online Poker Profitable?
Playing your best online poker real money can be profitable for skilled players who have a strong understanding of the game and employ effective strategies. However, it's important to note that poker involves an element of risk, and success depends on factors like skill, bankroll management, and game selection.
What Can I Do if a Poker Site is Delaying Payments?
If a poker site for real money is delaying payments, it's advisable to first reach out to their customer support for assistance. Document your communication and follow their instructions. If the issue persists, consider seeking mediation from a reputable third party or escalating the matter to relevant authorities.
Is Online Poker Safe?
Playing online poker on reputable and licensed poker sites is generally safe. These sites employ robust security measures to protect players' personal and financial information. However, it's important to choose trusted platforms and practice safe online habits, such as using strong passwords and avoiding sharing sensitive information.
I Don't Know How to Play Poker, Any Advice?
If you're new to poker, start by learning the basic rules and hand rankings. Consider studying strategy articles, watching tutorial videos, or joining online poker communities for guidance. Practice with play money or low-stakes games before venturing into real money play.
What are Satellite Poker Tournaments?
Satellite poker tournaments are tournaments with lower buy-ins that offer winners the opportunity to win entry into higher-stakes tournaments. They provide a more affordable path for players to compete in prestigious events with larger prize pools.
What are Sit-and-Go Poker Games and Jackpot SNGs?
Sit-and-Go (SNG) poker games are single-table tournaments that start as soon as the required number of players register. They offer a quick and convenient format, often with various buy-in levels. Jackpot SNGs add an extra twist by providing the chance to win a significant jackpot prize by winning a specific number of consecutive SNGs.
What Is the Difference Between Texas Hold'em & Omaha?
The main difference between Texas Hold'em and Omaha is the number of private cards dealt to each player. In Texas Hold'em, players receive two private cards, whereas, in Omaha, they receive four. Additionally, in Omaha, players must use exactly two of their private cards and three community cards to form their best hand, while in Texas Hold'em, they can use any combination of their private and community cards.
Are Online Poker Sites in the Same Network Similar?
Online poker sites in the same network often share similar features, software, and player pools. They may offer the same games, tournaments, and promotions. However, there may be slight differences in terms of branding, user interface, and specific promotions or bonuses offered by each site.